Seri anime Watashi ni Tenshi ga Maiorita atau Wataten seperti yang telah diitulis sebelumnya akan hadir dalam bentuk movie anime yang direncanakan dirilis pada tahun 2022.
Pada hari Sabtu (26/03), melalui akun Twitter @watatentv, akhirnya telah dirilis visible baru yang menampilkan Hana Shirosaki memakai yukata sembari melihat kembang api. Selain itu telah diumumkan juga bahwa movie anime ini akan dirilis di bioskop Jepang pada musim gugur 2022 mendatang.
🌸大 発 表🌸

/
私に天使が舞い降りた!
プレシャス・フレンズ
2022年《初秋》劇場公開決定‼
\

超絶天使な新キービジュアルも公開‼

蛍の光の中、花火を眺める花ちゃん。
浴衣姿がとっても天使なビジュアルです👼🎆#wataten pic.twitter.com/OFZUOQ3rW3

— TVアニメ「私に天使が舞い降りた!」公式👼2022年初秋劇場公開決定🍮 (@watatentv) March 26, 2022
Film anime Wataten dibuat oleh <sturdy>studio Doga Kobo</sturdy> (New Game!, Sewayaki Kitsune no Senko-san) dengan Daisuke Hiramaki (Usagi Drop, Kanokon) sebagai sutradara. Hiromi Nakagawa (Senpai ga Uzai Kouhai no Hanashi, Senyoku no Sigrdrifa) sebagai desainer karakter. Yuka Yamada (Ao Haru Ride, Kobayashi-san chi no Maid Dragon) sebagai supervisi naskah.
Selain jajaran staf, berikut seiyu yang turut mengisi peran di movie anime ini:
Akari Kitou (

Tonikaku Kawaii

,

Uma Musume

) sebagai Noa Himesaka.
Hitomi Ohwada (

Shriobako

,

Alice to Zouroku

) sebagai Koyori Tanemura.
Maria Sashide (

Koisuru Asteroid

,

Love Live! Nijigasaki Gakuen

) sebagai Hana Shirosaki.
Naomi Oozora (

Princess Connect

,

Banished From The Heores' Party

) sebagai Kanon Konomori.
Reina Ueda (Shuumatsu no Harem,

Isekai Shokudou

) sebagai Miyako Hoshino.
Rika Nagae (

Frame Arms Girl

,

Asobi Asobase

) sebagai Hinata Hoshino.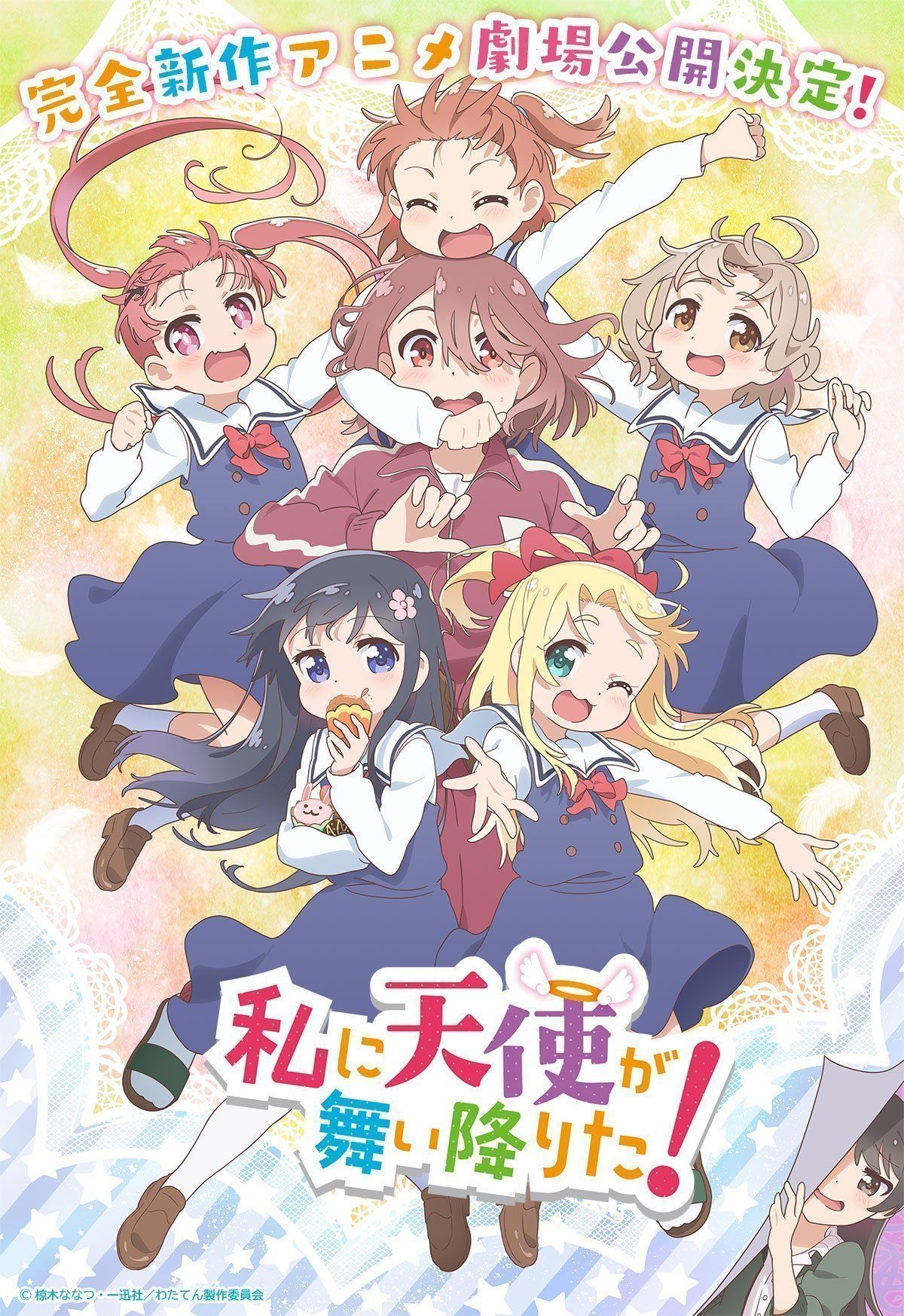 Watashi ni Tenshi ga Maiorita! atau dikenal juga sebagai Wataten adalah seri komik karangan Nanatsu Mukunoki yang dipublikasikan di majalah komik Comic Yuri Hime dari Ichijinsha sejak tahun 2016. Seri ini mendapatkan adaptasi anime yang dibuat oleh Doga Kobo pada tahun 2019.
Seri anime ini berkisah mengenai seorang mahasiswi bernama Miyako Hoshino (disuarakan oleh Reina Ueda, biasa dipanggil Mya-nee) yang bersifat pemalu dan tidak pandai berbicara pada orang lain. Suatu hari dia dipertemukan oleh seorang gadis kecil bernama Hana Shirosaki (Maria Sashide) yang merupakan teman dari adiknya yang bernama Hinata (Rika Nagae). Miyako yang terpaku oleh keimutan Hana tanpa habis pikir meminta Hana untuk jadi temannya. Meskipun pada awalnya Hana bersifat dingin, lama kelamaan Hana pun luluh oleh kue buatan Miyako. Walaupun Miyako tidak pandai berbicara dan juga pemalu, dia pandai memasak kue dan sejenisnya serta membuat pakaian yang setiap hari dia minta Hana, Hinata dan teman-temannya untuk dipakai.
Animefeed