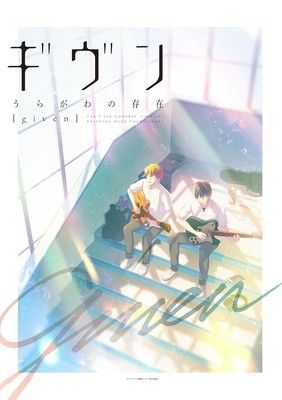 Hong Kong film distributor Neofilms announced on Saturday that it will reopen the anime film of Natsuki Kizu's Given manga in Hong Kong on May 28, screening alongside Given: Uragawa no Sonzai (Given: The One on the Flip-Side), the franchise's new original anime disc.
The Given anime film opened in Japan in August 2020. Neofilms opened the film in Hong Kong in February 2021. Fuji TV's new Blue Lynx boys-love anime label produced the Given film. The television anime focuses on high school students Ritsuka and Mafuyu, but the film focuses on the adults Haruki, Akihiko, and Ugetsu.
Given: Uragawa no Sonzai was bundled with the limited edition of the manga's seventh volume in December 2021. The new anime focuses on Mafuyu and Ritsuka during the events of the Given film.
The manga also inspired a separate live-action series that debuted on Fuji TV's FOD (Fuji TV on Demand) streaming service in July 2021.
Source: Neofilms' Facebook page