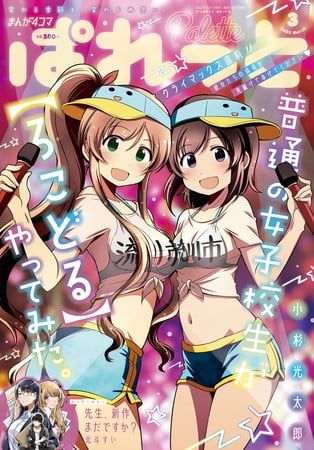 The March issue of Ichijinsha's Manga 4-Koma Palette magazine revealed on Saturday that the magazine will suspend publication after its April issue, which will ship on February 22.
Ichijinsha stated it will reveal the fates of the manga currently being serialized in the magazine in the magazine's final issue.
The magazine launched in September 2006 as Manga 4-Koma Kings Palette. Manga that have appeared in the magazine include: Mikakunin de Shinkōkei (Engaged to the Unidentified), Futsū no Joshikōsei ga Locodol Yattemita, Fushigi na Somera-chan (Magical Somera-chan), Danchigai, Miritari! (Military!), and Sunohara-Sō no Kanrinin-san (Miss caretaker of Sunohara-sou). All six manga have inspired anime adaptations.
Source: Manga 4-Koma Palette March issue