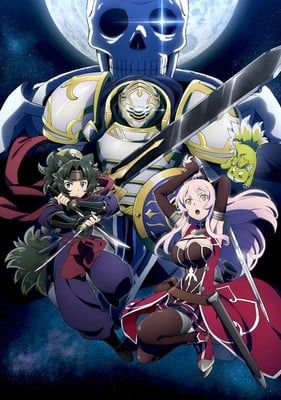 Muse Asia launched last Friday that it has licensed the television anime of Ennki Hakari's Skeleton Knight in Another World (Gaikotsu Kishi-sama, Tadaima Isekai e Odekakechū or Skeleton Knight, going out to the parallel universe) gentle novel sequence. The anime's stream will debut on April 7.
Muse Asia describes the anime:
Arc awakes and finds that he has been thrown into one different world in the kind of the game character he used to play in MMORPG. His character was a "skeleton knight" that appeared like a skeleton clad in full-body armour.
──If of us uncover out, they will suppose he is a monster and try and kill him!
Arc decides to keep up a low profile and spend his time as a mercenary. However, he was not the type of man who could let evil run rampant in entrance of his eyes!
An isekai fantasy a few skeleton knight who "make a world a better place", selflessly, is correct right here!
The anime will premiere in April, and might star:
Tomoaki Maeno as Arc
Ai Fairouz as Arianne
Nene Hieda as Ponta
Miyu Tomita as Chiyome
Takuya Eguchi as Danka
Kousuke Toriumi as Dillan
Yuko Minaguchi as Glenys
Rumi Okubo as Eevin
Ryota Takeuchi as Goemon
Katsumi Ono (Hypnosis Mic -Division Rap Battle- Rhyme Anima, Hataraki Man, Girly Air Force, Senki Zesshō Symphogear sequels) is directing the anime at Studio KAI and HORNETS, and Takeshi Kikuchi (Night Wizard The Animation, Ragnastrike Angels) is supervising the sequence scripts. Tōru Imanishi (Girly Air Force, Super Cub, WorldEnd) is designing the characters based totally on the distinctive novel illustrations by KeG. The artists eba and Tsubasa Ito (Iwa-Kakeru! -Sport Climbing Girls-, The Price of Smiles) are composing the music.
Source: Muse Asia's Facebook page