Lewat akun Twitter resmi Pokemon pada Jumat (1/4), dirilis PV yang ditujukan untuk perayaan ulang tahun ke-25 seri anime tersebut. PV tersebut merangkum perjalanan Ash Kecthum atau Satoshi dan para Pokemon yang dia tangkap selama keberlangsungan seri anime nya. Selama PV nya berlangsung pun diselipi lagu pembuka animenya dari yang paling pertama yang berjudul "Mezase Pokemon Master" oleh Rica Matsumoto, seiyu dari Ash sendiri.
#アニポケ25周年 を記念した特別映像が到着しました✨

1997年4月1日に、第1話が放送されたアニメ「ポケットモンスター」🎊

応援してくれる皆さまのおかげで、本日、25周年を迎えることができました🌟

皆さんの #アニポケ の思い出、コメント欄で語ってくださいね✨ (*25*)

— アニメ「ポケットモンスター」公式 (@anipoke_PR) March 31, 2022
Tak hanya itu, diungkap pula visible dan PV untuk anime Pokemon yang sedang tayang, Pokémon Journeys: The Series.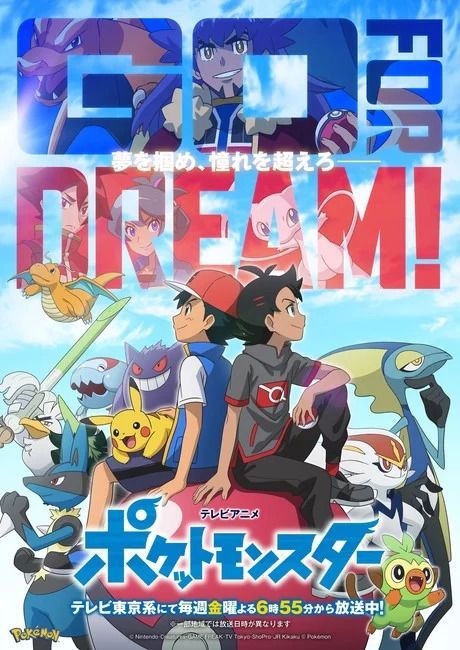 Pokémon, atau Pocket Monsters adalah seri anime Jepang bagian dari franchise gim Pokemon yang anime nya mulai tayang pada April 1997 dahulu.
Di Indonesia, serial Pokemon sendiri sudah tidak asing lagi di mata pemirsa di mana animenya pertama kali ditayangkan pada medio tahun 2000 oleh stasiun televisi SCTV dan dilanjutkan kembali oleh Indosiar pada medio tahun 2004 yang berjalan hingga Pokémon Best Wishes dan juga berbagai serial Movienya juga tayang di Indosiar dan bahkan salah satu Movienya yaitu Pokémon the Movie: Genesect and the Legend Awakened sempat ditayangkan oleh jaringan bioskop Blitzmegaplex (sekarang CGV Cinemas Indonesia) pada akhir tahun 2013 lalu (baca ulasannya pada tautan berikut ini). Adapun stasiun televisi MNC TV sempat menayangkan Pokémon XY pada tahun 2015 lalu. Pada tahun 2019, Pokémon Sun & Moon tayang di stasiun televisi Rajawali Televisi atau RTV. Ditambah dengan Pokémon Journeys pada tahun yang sama.
Animefeed